This was an interesting event, the idea was to come up with and implement (or prototype) an innovation at PayPal. To announce it they created this presentation, which is kinda cool.
I appear on this presentation a couple of times on the very first slide ( I am the guy with the microphone) and latter on making the "V" sign with my hand. The caption of that slide reads"Victory is mine" 🙂 . Kind of prophetic 🙂
Thanks to God for allowing me to participate in this event and to win with my team: "Masters of Deception".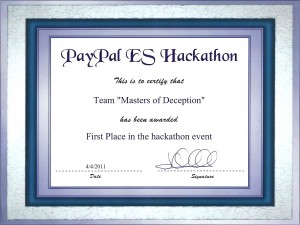 I am very blessed!!
–Mayel ><>